®

"Southview" 3, Biggin Hill, London SE19 3HT. Tel. 020 8679 5575.
email: watkins@wemwatkins.co.uk . Website : www.wemwatkins.co.uk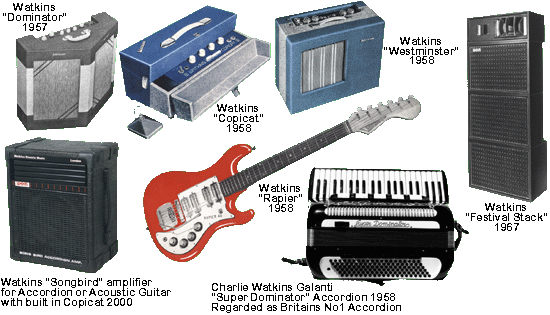 Here are some of the bands I have designed and built equipment for:
Rolling Stones - Who - Elton John - David Bowie - Pink Floyd - Band - Fleetwood Mac - Janis Joplin - Byrds - Moody Blues -Slade - Hendrix - Small Faces - Ten Years After - Cat Stevens - Rod Stewart - Arthur Brown - Jethro Tull - T.Rex - Move -Sir Paul Mc.Cartney - Time Box - Led Zeppelin - Dire Straits - Skiffle - Sound of the 60's - Rock - and all the milestones along the way - Every major Pop Festival - Isle of Wight - Stones in the Park - Windsor - Lincoln - Bath.
We did it - and we did it first. Everybody thought we were done and gone, Far from it, Might be a bit bruised and battered but still in the running and endlessly working for the next break-through in Electric Music - it's just the break-throughs don't come as easy as they did in the 60's when it was all starting, what with all the digital high tech and the rest of it. Still give it time! - Don't write us off yet. We're still into Copicats® and specialised amps that nobody else makes. Combo Amps with built in Copicat for Accordion, Flute, Clarinet, Sax, Acoustic and classical Guitar etc. Who else makes amps like that, eh? About the only amps we don't build are for the rock guitar types. Never did get on too well with them since our world-beating angle fronted 17 watt Dominator valve model in the old days.
The WEM® story started way back in the early 50's when our only musical legacy, apart from Banjos, Saxes, Trumpets and Pianos was the criminally neglected Guitar. Scorned and despised, along with us electronic people this beautiful and potentially devastating musical instrument bided its time, then the serious development of the Guitar started, and with the aid of the middle 50's musical Skifflers, Rockers and such electronic entrepreneurs who happened to be around besides WEM, the Guitar fraternity blossomed overnight and we set about making the sort of blinding advances in ten short years which eclipsed the rise of the piano, the violin and pretty well any other instrument you care to name which have taken centuries to develop, some of which haven't arrived yet!
Our most spectacular contribution to that era was, of course, the WATKINS "COPICAT®" Echo Unit. This little unit was snapped up by the forward looking along with sound hungry Guitarists of the day and it achieved the status of the 'missing link' in the originating chemistry of the legendary "60's" music. Considered today as a world industry standard, the present day Copicat is miles in advance of the original little units (but minus the nostalgia, of course).
Then there were the valve amplifiers we produced. The WATKINS 17 watt "DOMINATOR®" with its innovative triangular shape. The still revered "RAPIER" Guitars, the early solid electrics produced by Reg and Syd Watkins. And, of course, the multi-thousand watt Slaving P.A. System which was invented by Charlie Watkins in 1964, the basic principles of which are still adhered to by all Sound System manufacturers to this day.
Sadly, (in a way) the old days are a memory. But the legacy instigated by Charlie Watkins along with Leo Fender, and his range of Guitars, the late Tom Jennings with his "VOX", Dave Reeves with his "HI WATT" amplifiers has, it may be hoped, been useful and, possibly, inspirational for today's music which has blossomed since.
The abbreviated story of WEM® is attempted in the pages of this web site. So, If you want to know what happened (and is happening at WEM® nowadays) please push the appropriate button above. Only thing we ask is that if you have an old WEM® something or other. A 50's Copicat, which you don't believe, or a WEM® Classic PA that you can't believe. Please don't bombard us for/with details or folklore, as we do not have a PR dept any more.

Thanks.



To order contact us on +44(0)20 8679 5575 or Direct fax line on +44(0)20 8679 5575
---
Copyright ©2000 Watkins Electric Music Ltd.
All rights reserved.
---